What is a Disability?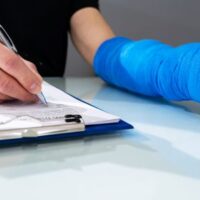 After a person has sustained a debilitating injury or has been diagnosed with a debilitating medical condition or illness, both the debilitated person and their doctors often talk in terms of disability. For example, a person who has been injured or recently diagnosed with an illness might speak about their disabling condition, or a doctor might discuss ways of managing their disability. Accordingly, it can be difficult to understand what the Social Security Administration (SSA) requires in order to pay out disability benefits through the Social Security Disability Insurance (SSDI) program or the Supplemental Security Income (SSI) program. To be sure, definitions of disability can vary depending on the source, so it is essential to ensure that you meet the definition of a disability used by the SSA for making determinations about SSDI or SSI eligibility.
Our national SSDI lawyers can explain more about the requirement of a disability according to the SSA and what you will need to meet the SSA's definition.
Common Disability Definitions 
When you are planning to apply for disability benefits through the SSA, it is critical to understand that there are definitions of a disability that are not necessarily the definition that the SSA uses to determine SSDI or SSI eligibility.
For instance, the Centers for Disease Control and Prevention (CDC) discuss the term "disability" in relation to impairment, and activity limitations, and participation restrictions, defining a "disability" as "any condition of the body or mind (impairment) that makes it more difficult for the person with the condition to do certain activities (activity limitation) and interact with the world around them (participation restrictions). The CDC explains that a person can have a disability if their vision, movement, thinking, remembering, learning, communicating, hearing, mental health, or social relationships are affected. This definition is similar to the type of definition used to determine a person's eligibility for disability accommodations, but it is not the definition used for determining SSDI or SSI eligibility.
Also, for example, according to Merriam-Webster dictionary, a "disability" is defined as "a physical, mental, cognitive, or developmental condition that impairs, interferes with, or limits a person's ability to engage in certain tasks or actions or participate in typical daily activities and interactions." Merriam-Webster's definition is closer than the CDC's definition to the disability definition used by the SSA, but it is still a bit different and should not be used to make assumptions about a person's eligibility for SSDI benefits.
SSA Definition of a Disability for SSDI and SSI Benefits 
What disability definition does the SSA use? It uses a definition outlined in the Code of Federal Regulations, Section 404.1505. That definition says:
"The law defines disability as the inability to do any substantial gainful activity by reason of any medically determinable physical or mental impairment which can be expected to result in death or which has lasted or can be expected to last for a continuous period of not less than 12 months. To meet this definition, you must have a severe impairment(s) that makes you unable to do your past relevant work . . . or any other substantial gainful work that exists in the national economy."
You will then use medical evidence to prove that you meet this definition.
Contact a National SSDI Benefits Lawyer Today 
Do you need help filing a disability benefits application or gathering proof to show that you meet the SSA's definition of a disability? An experienced national SSDI benefits lawyer at the Law Offices of Stephen Barszcz can help you.
Sources:
cdc.gov/ncbddd/disabilityandhealth/disability.html
merriam-webster.com/dictionary/disability#:~:text=1,typical%20daily%20activities%20and%20interactions
ssa.gov/redbook/eng/definedisability.htm
ssa.gov/OP_Home/cfr20/404/404-1505.htm