SSDI Benefits And "Invisible" Disabilities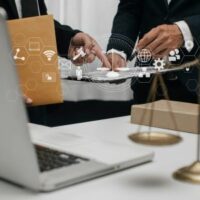 When we think about disabling injuries and conditions, and eligibility for Social Security Disability benefits, many of us think about disabilities that are visible and obvious to others, such as those that require use of a wheelchair. However, it is important to remember that disabilities can take many different forms, and there are many kinds of "invisible" disabilities that can result in a successful application for SSD benefits. What are "invisible" disabilities, and how can you qualify for benefits with one of these disabling conditions? Our national SSD benefit lawyers are here to assist you.
What is an "Invisible" Disability? 
What is an "invisible" disability? According to the University of Massachusetts, this is a broad term that is used to "capture a whole spectrum of hidden disability or challenges that are primarily neurological in nature." Approximately 10 percent of Americans have an injury or condition that may be considered an "invisible" disability, and the severity of that disability can vary significantly from person to person. In some cases, these types of disabilities may be so disabling and severe that a person can be eligible to seek and receive SSDI benefits by filing an application with the Social Security Administration (SSA).
What are some examples of "invisible" disabilities? The University of Massachusetts lists the following as commonly cited forms of "invisible" disabilities:
Brain injuries;
Chronic pain;
Chronic fatigue;
Mental illness, which may include depression, attention deficit hyperactivity disorder, bipolar disorder, and others;
Anxiety disorders;
Chronic dizziness;
Renal failure;
Diabetes;
Sleep disorders;
Crohn's disease;
Ehlers Danlos Syndrome;
Epilepsy;
Fibromyalgia;
Irritable Bowel Syndrome and inflammatory bowel disease;
Lupus;
Lyme Disease;
Multiple Sclerosis;
Rheumatoid arthritis; and
Ulcerative Colitis.
 When Can an "Invisible" Disability Allow for SSDI Benefits? 
In order for one of the above conditions, or another kind of "invisible" disability, to result in a successful application for SSDI benefits, the person with the "invisible" disability will need to prove his or her eligibility. First, the person seeking SSDI benefits will need to show that she or he has worked long enough and has enough credits to be eligible to receive SSDI benefits. Then, the applicant will need to prove that the "invisible" disability meets the Social Security Administration's definition of a disability. To be clear, simply being diagnosed with a condition that has been identified as an "invisible" disability is not enough to qualify for SSDI benefits. Instead, you will need to be able to prove the following with medical evidence:
An "inability to do any substantial gainful activity by reason of any medically determinable physical or mental impairment which can be expected to result in death or which has lasted or can be expected to last for a continuous period of not less than 12 months."
Contact Our National Disability Benefits Lawyers Today 
If you have an "invisible" disability that is preventing you from working, you should seek advice from a national disability benefits attorney at our firm who can evaluate your case for you. We can assist you with your SSDI claim and can provide you with more information about the required definition of a disability according to the Social Security Administration.  Contact the Law Offices of Stephen Barszcz today to learn more about how we can assist you.
Resource:
umass.edu/studentlife/sites/default/files/documents/pdf/Invisible%20Disabilities%20List%20%26%20Information.pdf