Can I File for Chapter 13 Bankruptcy?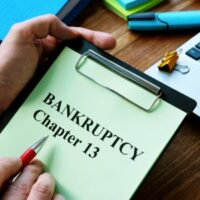 If you are considering the possibility of filing for bankruptcy in Florida, you are likely wondering about your eligibility. It is important to know that there are different types of consumer bankruptcy, and the two most common types are Chapter 7 and Chapter 13 bankruptcies. You should understand that these kinds of bankruptcies are quite different from one another. While both Chapter 7 and Chapter 13 bankruptcies can allow debtors to have debts discharged after fulfilling the terms of the bankruptcy case, the processes are extremely different. To be clear, if you are eligible to file for Chapter 7 bankruptcy, it is unlikely that you would also be eligible to file for Chapter 13 bankruptcy and vice versa.
Can you file for Chapter 13 bankruptcy? Do you meet the eligibility requirements? Consider some of the following questions, and seek advice from a St. Petersburg bankruptcy lawyer if you need assistance with your case. The U.S. Bankruptcy Code is extremely complicated, and you should always have an attorney on your side.
Have You Had a Bankruptcy Petition Dismissed in the Last 180 Days? 
You cannot have had a bankruptcy petition dismissed in the last 180 days prior to filing for Chapter 13 bankruptcy due to a willful failure to appear or a failure to comply with a court order, or if the case was voluntarily dismissed as a result of creditor action.
Have you Received Credit Counseling? 
You will need to receive credit counseling from an approved credit counseling agency within 180 days before you file for Chapter 13 bankruptcy.
Are You Currently Employed? 
You will need to be employed in order to have a debt reorganization plan approved. Since Chapter 13 bankruptcy involves monthly payments for a period of three to five years, a debtor must have a regular income that will allow them to stay current with the repayment plan. This is why Chapter 13 is commonly known as a wage earner's plan.
Do You Earn Enough Money to Cover Your Monthly Repayment Plan Payment? 
You will need to show the court that you earn enough money in your regular employment to cover the repayment plan payment each month.
Is Your Debt Below the Maximum Limit? 
In order to qualify for Chapter 13 bankruptcy, you need to have total combined secured and unsecured debts of less than a specific amount. Under the recently signed Bankruptcy Threshold Adjustment and Technical Corrections Act, debt limits are not measured separately for secured and unsecured debts. Instead, the total amount of your debt must be less than $2.75 million. This is a significantly higher limit than debtors previously had for Chapter 13 bankruptcy cases. When the law was signed in June 2022, it was set to be in effect for only two years. Once two years have passed, the lower debt limits that existed previously, as well as the separate debt limits for secured and unsecured debts, could be reinstated if the law is not renewed or extended.
Contact a Bankruptcy Attorney in St. Petersburg 
Whether you have questions about consumer bankruptcy more generally or you need assistance with your plans to file for bankruptcy, one of the experienced St. Petersburg bankruptcy attorneys at the Law Offices of Stephen Barszcz can provide you with the information and assistance you need. Do not hesitate to get in contact with us to find out more about the bankruptcy services we provide to clients in Florida.
Sources:
uscourts.gov/services-forms/bankruptcy/bankruptcy-basics/chapter-13-bankruptcy-basics
congress.gov/bill/117th-congress/senate-bill/3823