What Is The General Disability Application Process?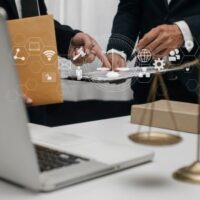 When you have been diagnosed with a disabling disease or have experienced a disabling injury, you are likely beginning to think about seeking disability benefits. Depending upon your situation, you are likely considering applying for benefits through the Social Security Disability Insurance (SSDI) program or through the Supplemental Security Income (SSI) program. In some cases, a disabled person can be eligible for both SSDI and SSI. And in some circumstances, a disabled person also may be eligible for private disability benefits through an employer, for example. When you are disabled and seeking benefits, what should you expect of the process? Our national disability benefits attorneys can give you more information.
Know Whether You Are Applying for Disability Benefits Through the Social Security Administration (SSA) or Through a Private Insurer
 The process for seeking disability benefits will be quite different for SSA benefits and for private disability benefits such as those provided through an employer. Accordingly, you need to know at the start whether you are seeking benefits through a private insurer or through the Social Security Administration.
In many cases, eligibility for SSA benefits and private disability benefits is not mutually exclusive. In other words, you may be eligible for SSDI benefits, for example, as well as for private disability benefits. Yet you should know that the application processes will still be distinct from one another, and the processes are also quite different.
Application Process for Disability Benefits Through the Social Security Administration 
What should you expect of the application process when you are applying for SSDI or SSI benefits? The following is the general process as the SSA outlines it:
Identify the documents you need, and look at the Adult Disability Checklist provided by the SSA;
Fill out and submit your application, including evidence that you meet the requirements (both SSDI and SSI will require you to show that you have a disability as it is defined by the SSA, but then SSDI will require evidence of your work history whereas SSI will require evidence of your assets and income);
Wait for the SSA to review your application, including your eligibility and your current work activities;
Have your application processed by the relevant office in your state; and
Receive a disability determination decision, which can be that you are eligible for benefits or that you have been denied.
Contact a National Disability Benefits Attorney Today
 When you are applying for disability benefits, it is essential to know that a lawyer can help you immensely with the process. For many people, the process of seeking benefits can be complex and confusing, and it is important to have a lawyer on your side to ensure that you file all documents properly in order to be eligible for the payments you need. Whether you were recently diagnosed with a disability and need help with the initial application process, or you were recently denied benefits and require assistance with an appeal, one of our experienced national SSDI lawyers at the Law Offices of Stephen Barszcz can speak with you today.
Sources:
ssa.gov/benefits/disability/