Children And Social Security Disability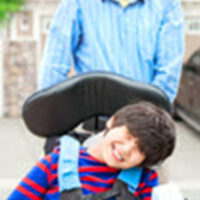 If you have a disabled child, can your child be eligible to receive disability benefits from the Social Security Administration (SSA)? The answer to that question will depend upon a number of different factors, including your child's age, your family's income and assets, and whether or not you or your child's other parent currently receives disability benefits. In short, minors (i.e., kids who are under the age of 18) cannot be eligible to receive Social Security Disability Insurance (SSDI) benefits on their own, but they may be able to receive those benefits as a dependent if a parent receives them. At the same time, minors can be eligible to receive Supplemental Security Income (SSI) benefits even if a parent is not disabled and receiving benefits.
Given that the distinctions can be complicated, it is important to discuss your child's situation with a disability benefits attorney who can help. In the meantime, our national Social Security disability lawyers can provide you with more information to help you understand how disability benefits for children work.
Children Can Be Eligible for SSI Payments 
SSI payments, unlike SSDI payments, are intended for individuals with limited resources (meaning that they are income- or asset-based benefits). As the Social Security Administration explains, "children younger than 18 can qualify if they have a medical condition or a combination of conditions that meets Social Security's definition of a disability," but "their income and resources must fall within the eligibility limits." In other words, a child seeking SSI benefits must show that they have a disability (based on the definition the SSA uses) just as an adult would.
Children Can Be Eligible for SSDI Payments as a Dependent 
Kids under the age of 18, even if they have a disability that meets the SSA's definition, cannot qualify for SSDI benefits on their own. However, they can be eligible to receive dependent benefits if a parent (including an adoptive parent) or stepparent is receiving SSDI payments. The child does not need to be disabled in order to be eligible for these benefits, which are also known as auxiliary benefits.
SSDI Payments for Adults with Disabilities Since Childhood 
You should know that the SSA does allow adults who have had disabilities since childhood (prior to turning 22 years old) to be eligible for SSDI payments. This type of benefit is paid based on the parent's earning record with the Social Security Administration. In order for a disabled adult (with a childhood disability) to qualify for SSDI payments, that person's parent(s) must either have died (with enough work to qualify for Social Security) or must be receiving Social Security disability or retirement benefits.
Contact a National SSDI Benefits Attorney Today 
Do you have questions about Social Security disability benefits and kids? Whether you need help determining whether your child can qualify for benefits based on your disability and work record, or you need help figuring out if your child's disability qualifies them for SSDI payments, our firm can help. The national SSDI benefits lawyers at the Law Offices of Stephen Barszcz can evaluate the circumstances of your case for you today, and we can help you to seek benefits or to file an appeal if you are eligible.
Source:
ssa.gov/pubs/EN-05-10026.pdf