Can I Apply For SSDI And SSI Benefits At The Same Time?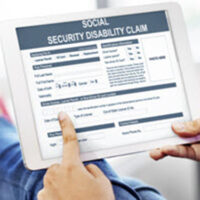 Anyone who has recently become disabled may be eligible to seek federal benefits in order to help pay for care and to make up for lost wages due to the inability to work. While the acronyms for Social Security Disability Insurance (SSDI) benefits and Supplemental Security Income (SSI) are quite similar, the two programs have important distinctions. However, one common aspect of SSDI and SSI benefits is that they require the same definition of a disability. The Social Security Administration defines a disability, for purposes of SSDI and/or SSI benefits, as "the inability to do any substantial gainful activity by reason of any medically determinable physical or mental impairment which can be expected to result in death or which has lasted or can be expected to last for a continuous period of not less than 12 months."
In other words, meeting eligibility requirements for SSDI and SSI requires the same medical evidence. Yet there are distinct additional eligibility requirements, and a person might not qualify for both SSDI and SSI. However, the SSA makes clear that SSDI and SSI benefits can be paid concurrently if the applicant is eligible. Our national disability benefits lawyers will say more.
Requirements for SSDI and SSI Are Distinct from One Another 
Beyond the requirement of a disability as defined above, SSDI benefits require that a person has worked for enough hours and for a long enough period of time such that they have paid into the federal insurance program. For eligibility purposes, the SSDI program is not interested in a person's average earnings, or the wages a person was earning prior to his or her diagnosed disability. Much differently, a person is not required to have worked for any amount of time to be eligible for benefits. Rather, eligibility is premised upon the applicant having a low income.
To be clear, beyond proving a medical disability as the SSA defines it, the eligibility requirements for SSDI and SSI benefits are quite distinct from one another. At the same time, however, there are certainly scenarios in which a person can be eligible for receiving both types of benefits at the same time.
Concurrent SSDI and SSI Benefits 
You can be eligible to receive SSDI and SSI benefits concurrently. However, it is critical to understand that receiving both types of benefits ultimately may result in a reduction of SSI benefits.
Since SSDI benefits are based on your work history and earnings prior to your disability, while SSI benefits are need-based benefits, a person could have worked for a long time in a low-income job that qualifies them for both SSDI and SSI benefits. Yet receiving SSDI benefits can reduce that applicant's SSI benefits since those benefits are based on need (and the applicant might not need as high an SSI payment without the SSDI benefits, or might not need SSI benefits at all).
Learn More By Contacting a National Disability Benefits Attorney 
If you have questions about seeking concurrent SSDI and SSI benefits, you should get in touch with one of our national Social Security disability attorneys today. We can evaluate your case for you and can discuss eligibility for different forms of federal disability benefits. Contact the Law Offices of Stephen Barszcz today.
Resource:
ssa.gov/benefits/disability/