Arthritis And SSDI Benefits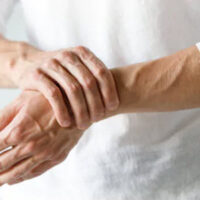 With either SSI or SSDI benefits, can a person qualify if they have been diagnosed with arthritis? In particular, if your arthritis is so severe that you cannot do your job, will you qualify for disability benefits? Our Social Security disability lawyers can tell you more about arthritis and disability benefit claims.
Does Your Arthritis Count as a Blue Book Disability? 
If you are trying to determine if your arthritis qualifies you for disability benefits, you should learn more about the Blue Book and whether your arthritis meets the definition of inflammatory arthritis in that document that lists disabling impairments.
Inflammatory arthritis is listed under section 14.09, and it requires a showing of one of the following:
Persistent inflammation or persistent deformity of either one or more major peripheral joints in the lower extremity;
Persistent inflammation or persistent deformity of either one or more major peripheral joints in the lower extremity;
Inflammation or deformity in one or more major joints of an upper or lower extremity involving two or more organs or body system with a moderate level of severity or greater in one of those systems, and at least two of the "constitutional symptoms or signs" that include severe fatigue, fever, malaise, or involuntary weight loss;
Ankylosing spondylitis or other spondyloarthropathies; or
Repeated manifestations of inflammatory arthritis with at least two of the constitutional symptoms or signs, and limitation of activities of daily living or limitation in social functioning or limitation in completing tasks in a timely manner.
There are additional requirements, including medical documentation for showings of persistent inflammation or persistent deformity that include medical documentation of the need for a medical device (like a walker or a cane) or medical documentation of the inability to use the extremity to complete work-related activities. Since these definitions can be complex and confusing for many people with arthritis, it is important to work with both your healthcare provider and a national disability benefits lawyer to determine whether you qualify for SSDI benefits based on the Blue Book.
Disability Definition for SSDI Benefits and Your Arthritis 
Even outside the Blue Book descriptions of inflammatory arthritis, you may be able to qualify for SSDI benefits with other forms of arthritis if you can prove that your medical condition meets the SSA's definition of a disability. Under the Code of Federal Regulations, the definition of a disability that the SSA uses is this:
"[T]he inability to do any substantial gainful activity by reason of any medically determinable physical or mental impairment which can be expected to result in death or which has lasted or can be expected to last for a continuous period of not less than 12 months."
If your arthritis has been so severe that it has prevented you from working for at least a year, or if your physician says your condition will persist for one year or longer, you should speak with a disability benefits lawyer about seeking SSDI payments.
Contact Our National Disability Benefit Lawyers 
If you have questions about SSDI benefits and arthritis, a national disability benefits lawyer at our firm can help. Contact the Law Offices of Stephen Barszcz to learn more.
Resource:
ssa.gov/disability/professionals/bluebook/14.00-Immune-Adult.htm#14_09