Who Decides If I Am Disabled?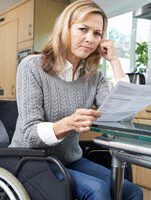 When you are planning to apply for Social Security Disability Insurance benefits, or SSDI benefits, the process can be quite complicated. In particular, you may be unsure about how the federal government determines whether or not you have a disability that qualifies you for SSDI benefits, and who makes that determination. This part of the SSDI claims process can be particularly confusing for anyone who has been to a healthcare provider and has been told that they have sustained a disabling injury, or that they have a disabling illness or other condition.
What is the relationship between a doctor's diagnosis of a disability? The process can feel even more complicated for people who sustained their injuries on the job and have been compensated for a disability through the workers' compensation system, yet their injury might not count as a disability for SSDI benefits purposes. Our national disability benefits attorneys can tell you more.
Your Doctor Cannot Diagnose You with a Disability for SSDI Purposes 
If you recently sustained an injury or were diagnosed with an illness, you might have talked with your doctor about what you perceive to be your disabling condition. While your healthcare provider can speak to the disabling nature of your injury or illness, and the way it might present a disability in a medical sense, your doctor cannot diagnose you with a disability for the purposes of the Social Security Administration (SSA).
For the SSA's purposes, to have a disability, you must meet this definition: "the inability to do any substantial gainful activity by reason of any medically determinable physical or mental impairment which can be expected to result in death or which has lasted or can be expected to last for a continuous period of not less than 12 months."
Your Workers' Compensation Disability is Not Necessarily Connected to an SSDI Disability Designation 
Having a disability as it is defined by a workers' compensation board, or a workers' compensation insurer, also does not "count" for SSDI benefits. You must meet the above definition.
You Must Meet the Social Security Administration's Definition of a Disability Regardless of Other Disability Diagnoses or Identifications 
Ultimately, in order to be eligible for SSDI benefits, you will need to meet the Social Security Administration's definition of a disability. To be clear, when it comes to meeting the SSA's definition, it does not necessarily matter if a physician has told you that you are disabled, or you are receiving workers' compensation benefits for a temporary or permanent disability. While these disability diagnoses or identifications are also legitimate uses of the term "disability," what you need to remember is that the SSA has its own definition of a disability. We outlined that disability above, and it is what "counts" for purposes of being eligible to obtain SSDI benefits.
The disability definition used by the SSA to determine eligibility for SSDI benefits is the same disability definition the SSA uses to determine eligibility for SSI benefits. However, keep in mind that SSDI and SSI benefits are quite different from one another, even if the disability definition requirement is the same.
Contact Our National Disability Benefits Lawyers 
If you need assistance determining your eligibility for SSDI benefits, our national Social Security disability attorneys can speak with you today. Contact the Law Offices of Stephen Barszcz to learn more.
Resource:
ssa.gov/OP_Home/cfr20/404/404-1505.htm#:~:text=(a)%20The%20law%20defines%20disability,not%20less%20than%2012%20months