When Do I Need To Appeal An SSDI Claim In Court?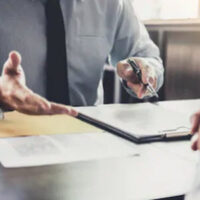 When you apply for Social Security Disability Insurance (SSDI) benefits and are denied, you should immediately begin thinking about an appeal and taking steps to appeal the Social Security Administration's (SSA's) decision. Certainly, the best initial course of action when seeking SSDI benefits is to begin working with a national disability benefits attorney as soon as possible to avoid a denial of benefits as a result of an error or lack of information in your application. However, you should know that many Americans who apply for SSDI benefits are denied initially, and it is not too late to appeal, and ultimately to be approved for benefits. If you have started looking into your options for an appeal, you have likely come across various details about the SSDI appeals process, and you may have encountered information about going to court.
As such, you may be wondering: when do I need to appeal an SSDI claim denial in court? In short, the last opportunity to appeal is the only stage at which you will actually go to a federal court, but there are other stages of the appeals process that are similar to taking your case to court. Our national SSDI attorneys can explain in more detail.
Initial Appeal Does Not Happen In Person 
The initial opportunity for an appeal does not happen in person. Instead, you will request a reconsideration based on whether your denial was on a medical or non-medical basis. The request for reconsideration is something you can do online, and you will have 60 days from the date that you received your decision to request reconsideration. This stage does not involve going before a judge or going to court.
Hearing with an Administrative Law Judge 
If you are denied after your request for reconsideration, the next step involves requesting a hearing with an administrative law judge (ALJ). While this appeals process does involve going before a judge, you will not be in a federal court. Going to court, as we will clarify, is the final appeals option.
Requesting a Review with the Appeals Council 
If you do not agree with the ALJ's decision in your case, you can request that the Appeals Council reviews your case.
Filing a Final Appeal in Federal District Court 
The final option, if you disagree with the Appeals Council's response, is to file an action in federal district court. This is the only stage of the appeals process that will formally involve going into a courtroom as such. It is critical to have an attorney on your side for this complex process.
Contact a National Disability Benefits Attorney Today 
The SSDI application process can be complicated, and applicants have their claims denied for a range of reasons. Whether you need to appeal based on medical evidence of your disability or for another non-medical reason, it is important to get help from a lawyer at the earliest step in the appeals process. While an initial appeal does not require going before a judge or going to court, an attorney may be able to help you avoid those subsequent appeals opportunities by having your application for benefits approved upon your initial appeal. Do not hesitate to get in touch with an experienced national disability benefits attorney at the Law Offices of Stephen Barszcz to learn more about how we can help you.
Source:
ssa.gov/apply/appeal-decision-we-made