What Should I Expect with an SSD Hearing?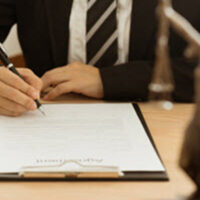 If you apply for Social Security Disability benefits, or SSD benefits, and you are denied after your initial application or your reconsideration determination, you can be eligible to request a hearing. When your application is denied, it is critical to know that you must request a hearing quickly, or else you may be ineligible to have your case reconsidered. Regardless of whether or not you worked with an attorney on the initial filing of your application for benefits, you should certainly have an experienced national disability benefits lawyer on your side during the hearing, which will occur before an Administrative Law Judge (ALJ). The hearing process can be complex and confusing, especially for someone who does not have any experience seeking SSD benefits. You have a much better chance of winning your appeal if you have an experienced attorney assisting with your case.
We want to provide you with information that can help you to understand what you should expect at your SSD hearing.
You Will Need to Request a Hearing After You Are Denied Benefits through a Reconsideration Determination 
The SSD hearing is the second appeal option. To be clear, you will only need to request a hearing—and attend a hearing—if you have already been denied benefits by the Social Security Administration (SSA) in your initial application and again after requesting a reconsideration determination. Neither of those steps—the initial application or the reconsideration determination—will require you to attend an in-person hearing before an ALJ. In general, you will need to request a hearing to appeal your denial within 60 days of the denial. If you wait longer than 60 days, you may be able to appeal the deadline with assistance from your lawyer, but you should do everything you can to request a hearing in a timely manner.
Your Hearing Before an ALJ Will Be Scheduled 
Once you request the hearing, your hearing will be scheduled before an ALJ. Depending upon the circumstances, your hearing may be an in-person hearing or a hearing through a video teleconference. For an in-person hearing, the ALJ will typically hold the hearing within 75 miles from where you live.
Your Hearing Will Look Somewhat Similar to a Trial 
If you are familiar with the general action that takes place in a trial, it might help to know that the hearing will look somewhat similar to a trial. You will appear before the ALJ with your lawyer, and with any witnesses or evidence in your case. You will answer questions from the ALJ while you are under oath, and your lawyer will be able to question witnesses before the ALJ in addition to submitting evidence to support your case.
After hearing your case, the ALJ will issue a decision.
Learn More from a National Social Security Disability Lawyer 
If you need to appeal an SSD benefits denial and you must request a hearing, it is critical to begin working with a national Social Security Disability attorney as soon as possible. You will need to request the hearing before an ALJ, and you will need to present your case for benefits. One of the dedicated disability benefits lawyers at our firm can speak to you today about your case. Contact the Law Offices of Stephen Barszcz today for more information about the services we provide.