Commonly Asked Questions About SSDI Benefits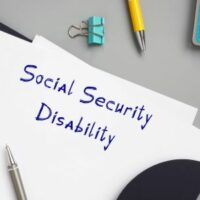 If you were recently injured or diagnosed with a debilitating illness, you may be wondering about your options for seeking disability benefits. Depending upon the particular circumstances of your case, you may have a number of options for obtaining benefits, including through the Social Security Disability Insurance (SSDI) program. The SSDI program provides SSDI benefits to eligible recipients who meet the requirements set forth by the Social Security Administration. Yet understanding how SSDI benefits work, and how they differ from similar types of benefits, can be quite confusing. As experienced national disability benefits lawyers, we routinely assist clients with SSDI cases, and we want to provide you with answers to some of the most commonly asked questions we receive.
Q: What Counts as a Disability? 
A: The SSA's definition of a disability might not be the same definition that you would use, or even that your healthcare provider might use. To be sure, you might have an injury that is so serious that you are unlikely to be able to return to work for about six months, but the SSA would not count the injury as a disability for purposes of obtaining SSDI benefits. Here is how the SSA defines a disability when it comes to SSDI eligibility: "Your condition must significantly limit your ability to do basic work-related activities, such as lifting, standing, walking, sitting, or remembering—for at least 12 months," or the condition must be expected to result in your death. The SSA essentially defines disabilities as any injuries or illnesses that prevent a person from engaging in substantial gainful activity for a year or longer, or that will lead to the person's death.
Q: Is SSDI the Same as SSI? 
A: People often confuse SSDI benefits and SSI benefits (meaning Supplemental Security Income benefits) because of how closely the acronyms mirror one another. However, it is essential to know that SSDI benefits are in fact quite different from SSI benefits in terms of eligibility. Although both are forms of disability benefits that are managed by the Social Security Administration, SSDI benefits are paid to people with disabilities who have worked long enough and paid in sufficiently through wages to the "insurance" system. To be clear, SSDI benefits are not based on economic need. Differently, SSI benefits are for low-income individuals who have a disability. These benefits are based on economic need.
Q: What Information Do I Need to Send with My SSDI Application 
A: Generally speaking, any SSDI application will need to include data about you (such as your name, date of birth, place of birth, Social Security number), details about your disabling condition, and in-depth information about your employment history to show that you qualify for SSDI benefits (including information about your earnings, your employer, dates of employment).
Contact Our National Disability Benefits Attorneys Today 
Applying for SSDI benefits and other types of disability benefits can be complicated, and even a minor error can result in a denial of benefits. To ensure that your application is submitted in a complete and timely manner, you should seek advice from an experienced national Social Security disability attorney who can help. Contact the Law Offices of Stephen Barszcz today for more information.
Resource:
ssa.gov/benefits/disability/#anchor1